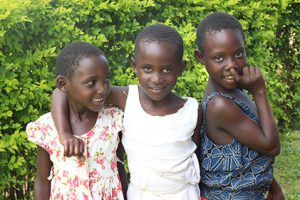 When you sponsor a child under Mountains of Hope, you provide them with sustainable access to healthy food, clean water, and a strong education. Each of these resources helps our kids grow up to be healthy and confident leaders in their communities.
Are you ready to change a child's life for good?
Every year, thousands of Ugandan children are unable to attend school or are forced to drop out because their families cannot pay for school fees. Mountains of Hope seeks sponsorships for 40 such children living in impoverished single-parent or grandparent households.
Your sponsorship won't just provide children with an education; it will offer them a world of opportunity. With the constant mentorship and support of Mountains of Hope, each of these children continues on to university, finds
well-paying jobs, obtains better healthcare, provides for their families, and so much more.
What We Do
We will ensure that 40 children receive a well-rounded and strong education so they can grow up to be knowledgeable and prepared contributors to their communities and our world. Mountains of Hope also knows that no child can be successful on their own. That's why we support the whole community by distributing water filters and healthy food and providing other services so that the community can support the child all throughout their education. Through this holistic approach we will create lasting change.
Sponsorship
When you choose a child to sponsor, you will be able to build a relationship with them and join the community of family and friends supporting them. After donating on GlobalGiving, please complete this link to indicate the child you wish to sponsor. Within 5 days you'll receive a thank you letter and information from your child on email, along with ways to connect with your new sponsored child. We and the child you sponsor can't wait to get to know you, and are so grateful for your support. GlobalGiving is a registered 501(c)3 organization, and donations made through their site are tax deductible.
How to Become a Sponsor
1. View the children available for sponsorship below.
2. Donate on our GlobalGiving page.
3. Once you have made your donation through GlobalGiving, fill out this form to select your child to sponsor.
Click on an image to learn more about a child.